18.04.2008
On Sunday April 6th we went at training of racing to Lednice with Draggi, Molly, Randis and Gina. In Brno we picked up our friend Lucka with Bára.
The weather was very nice,the sun was shining ... It was very nice spring´s day ...
Gina and Bára were playing ...
We entered Molly and Randis for racing licence runs. There are little different conditions for racing licence as at the coursing licence - every dog have to finish 2times alone run and 1time collective run. At first was running our Molly and she finished her alone run. Then was runnig Randis and she finished it, too very good. Draggi hasn´t liked the racing. He has not known why he has to go two times throught the finish!? He started very good but after he ran first time throught the finish, he stopped and came back to finish and he was waiting there for the tuft.
Gina was playing between two runs of her friends -deerhounds ...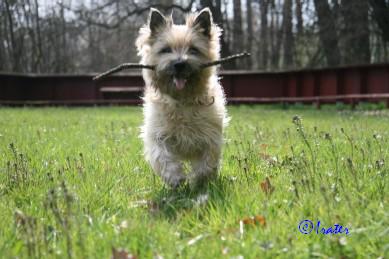 We decided for second run as the collective run of all our three deerhounds. Molly started very good and Draggi wanted to stop after the finish as usually, but when Molly was running on and on, Draggi decided to continue and finished his run on second place. Our Randis found out that she could not be the first, so she has been very clever and ran over the fence and she was running to the finish directly.
Molly came true her collective run, so for the whole racing licence she has to do only one alone run now.
Our dogs went to sleep and we had a lunch. After lunch we went for a walk to the park called Lednicko-Valtický areál.
Gina and Bara made a pose ...
Deerhounds were playing ..
Randis and Bára
Molly
Then we made some photos ...
| | |
| --- | --- |
| Draggi, Molly, Randis, Gina and me | Lucka and Bára |
Together