06.06.2008
On Sunday 27 April we went to Prague to first deerhound´s trip. The way was prepared by Lucie Drábová. We went to valley called Divoká Šárka.
We met in parking place, near Letná. Then we were going to valley at first by cars, so we looked like wending convoy.
We stopped in small parking place and we were starting our walk ...
At first we were going between houses and our deerhounds were bored. Lucie was talking about this part of Prague and architecture. Deerhounds behaved greatly, but our Randis instigated them for playing ...
Avery (Vincek) has fallen in love with our Molly and he was going behind her... they looked like train ... Where was Molly, was Vincek too. We were talking and talking with our friends, going down the hill and up the hill, in the wood, in the field and our deerhounds was playing and were very happy.
For remember we made a photo ...
After the nice walk we went to restaurant and we had a lunch there. Personnel didn´t wait for such big and so many dogs and they prepared for us very small room. But our Draggi tasted their marinated beef tende ...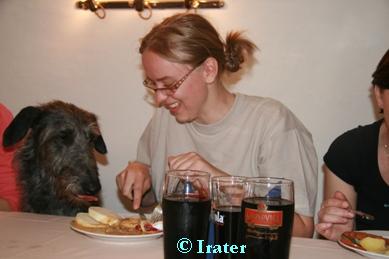 Then we said Good bye and went home.