31.07.2008
This day June 22nd was only for our Baltazar.
Here was the way of Fairy forest and Baltazar assumed this nice duty by his mother Terinka. Our first "wolf" was our first irish wolfhound Afra. She had so nice charakter like our Terinka.
Baltazar was very happy that he found out the children caressed him in the afternoon. Children had to give him some sweet cookies and he could not eat the Little Red Riding Hood.
"Grandmother, why have you so big teeth?"
In each fairy tale children have to make some exercise and in "our" have to feed on wolf ...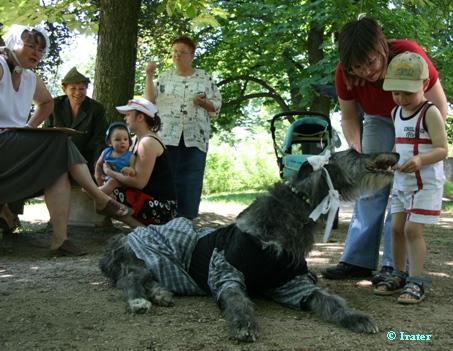 Little Red Riding Hood was at rest because children gave cookies to wolf and she relaxed on his bed ...
Brave was a little princess ...
All were happy, our fairy tale finished and we are looking forward to next year ...