10.10.2008
Cairn's Weekend
---
On Friday, 5th September, in the late afternoon, we drove to Rybniky u Dobrise, with Gina, Randis and Baltazar and our friend Magda with Gina´s daughter Aja. There was a dog show planned on Saturday and a special grooming course of the Cairn Terrier on Sunday.
We arrived after sunset, but everything was under preparation at this time. We helped, with anything, we were able to. People cut the ties, write names and numbers on critics, etc. There was some kind of wooden platform being constructed outside a building. This was for a long-haired breeds, which felt unconfortable on cut lawn. And all these things was prepared during the night…
I must organize my day and my mother with Baltazar goes off to Petra Cechova/Kappelova's wedding.
Baltazar
I give Gina to Magda to take care of the little terrier. I help with catalogues and, later, as a leader of a show ring. Libuse Ubrova was the judge here and I tried the dog show from "the other side." In our ring, there was breeds like Cavalier King Charles, Yorkshire terrier, etc. Mrs. Ubrova was very nice and kind, although she gave the very good and promising as well. It was a great experience.
We entered Randis into Intermedialeclass and Daniela with Maybe's sister Azalka also arrived. Both deerhound bitches made very good performance and they got
Excellent 1, Regional winner for Randis
and
very promising 1 for Azalka
.
After the work in the ring, I hurry to see Gina's results. I was anxious to see them…
Gina
And I was suprised as Gina wasn't judged yet. Mrs. Satu Stenroos from Finland, an experienced breeder of the cairn terriers, kennel No Copyright, who also judged World Terrier Specialty 2008 in Sweden (there were about 126 cairn terriers), was very precise in her judging. There was 46 cairn terriers to be judged, a very high number for a show such as this!
Gina was in the open class with 12 more bitches. I didn't believe in her success, but she suprised me and got excellent. And in the critics, there was written…"charming expression" and many other nice words and true mistakes.
Gina
Photo: Lucie Vynikalová
And because of the shinning sun, we waited until the judging was over and we were very suprised, when Gina was called back to compete for a higher award with five more bitches.
She got Excellent 5.
Gina's daughter
Aja got Excellent 1 and won the Young class
and Gina´s son
Artic Tiger
got
Excellent 2
in the young class.
Ája Gina Irater
At least, It was a great success for Gina's family.
And it wasn't over yet, as Aja came to BIS competition as Best young female and got
BEST IN SHOW 2
.
Ája Gina BIS 2
Azalka during The best puppy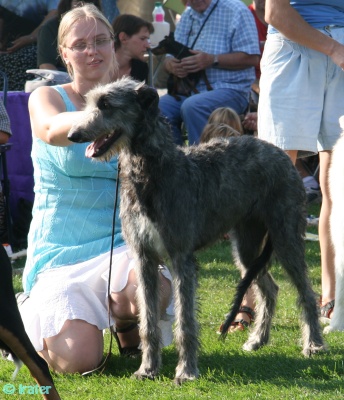 Azaria Irsias
Randis competes for the best bitch of the Region.
Randis
Mother came in the evening and she brings some sweets and cakes from the wedding, so we can celebrate our success ...
and after the walk….
| | |
| --- | --- |
| Randis | Gina |
...we go out for dinner.
By coincidence, Mrs. Stenroos from Finland and Mrs. Mette Sorum from Denmark (kennel Zalazar), who was going to lecture us about "How to care for the hair of your cairn terrier" on the next day, was there too. Gina and Aja won everyone attention and they entertain everyone…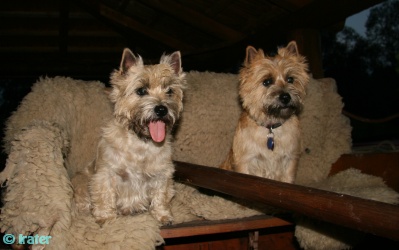 Gina a Ája
---
On Sunday morning, we had a walk in local meadows…
First, we listen to Satu Stenroos about the ideal cairn terrier. Nice article about this topis was written by Lucie Vynikalova, but this is only in czech.
Then, we learn how to treat cairn's hair, by Mette Sorum. Treating the whole cairn terrier takes up to four hours. We learn a lot, and we wanted to try it on Gina immediately. But she is a cleevr dog, so she run into agility tunnel, sat there and waited. As soon as our hands were free, she left her secure place and slowly walked out.
After the lunch, we were attracted by the play of Gina and Aja…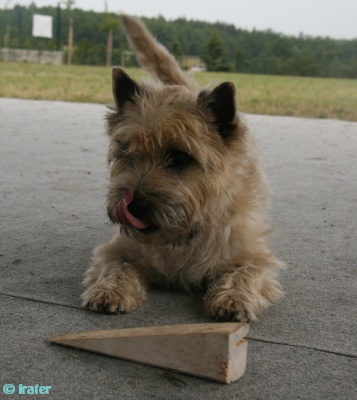 Gina and only Gina got a horn….
And the necessary familly photos…
….despite the fact, that Gina wasn't so axcited to see Tiger again…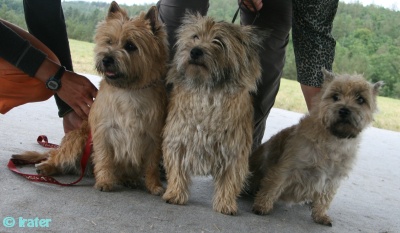 Ája, Tiger, Gina
And then we drove for home, full of many interesting experiences.
We are looking forward to the next year!