09.11.2008
Championship of Czech Republic - coursing in Kralupy nad Vltavou
---
On Sunday, 12th October, we drove to Kralupy nad Vltavou along with Draggi, Molly, Randis, Asim and Gina, to coursing race.
Again, we met with Olga and Dermot, with Svaťa and Blueberry and Andulka and with several wolfhound friends.
First run was divided like this: Draggi and Dermot and then Blueberry, Molly and Randis.
Randis behaved strangely, because she was two months after her heat and the "imaginatory puppies" were about two days old…
Molly
Molly, Blueberry and Randis started, speeding up rapidly. Then, Randis found out, that she cannot catch up with the two bitches and, futhermore, she, "a mother", couldn't take any risks today. So she stopped in the middle of the track and observed them cautiously how they ran a round and when she saw, that the bait is in the finish, she started right to it and caught it too.
Draggi and his son, Dermot, cooped nicely, they work really well together, and they enjoy it too…
Draggi
We arrange a training run for Asim, so he observed cautiously, what's going on in here…
In the end, he ran his part in the race….
Asi
Then, we arranged a terrier run…
Gina, australian Tequila and local cairn and crossbreed Rozárka show how a terrier run…
Gina
Randis bought a new toy for herself, Asim was jealous of it, and, on the walk, she occasionally forgot about her current mood and played for a while…
In the end, she lent her toy to Asi…
After long waiting, we could run our second run and this one for Draggi and Dermot and Molly and Blueberry…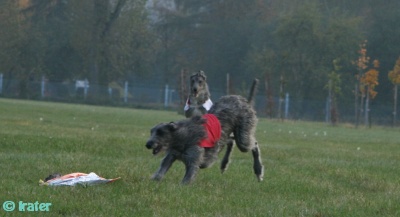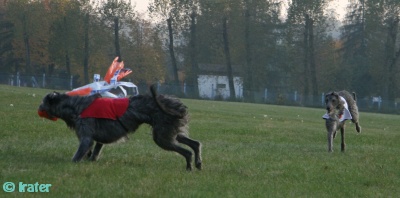 Molly red and Blueberry white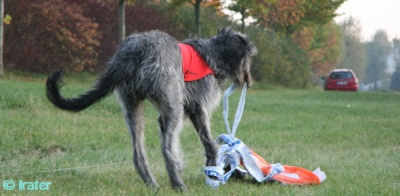 Draggi red and Dermot white
The running had finished late in the evening. In the light of our cars, the prizes were given out and the results were announced.
Molly
Master of Czech Republic
CACT
Blueberry
2. place
res CACT
Dermot
Master of Czech Republic
Draggi
2. place
So, Derisek paid his father back the defeat from Austria, again by only one point.