27.11.2008
Karel Grünwald's Memorial - coursing in Kralupy nad Vltavou
---
On the 4th Memorial on 25th October, we departed slightly weakened – Molly was in heat and Randis had to rest because of her injured muscle, so only Draggi and Asipejsek left for racing, who, like any other male, not only weren't in heat, but they hadn't any injured paws.
And to stay calm, we brought all our males with us, so Molly was free to move in the whole house. The only female in our group was Gina. Balthazar invited this opportunity and enjoyed the trip.
Baltazar
We met many friends at the event, because unbelieving 15 deerhounds were there.
After the first run, in which three Monika Bousova's puppies, offspring of "our" Bastian, ran, ran our Asi completely alone, but he managed to finish the ran, although he needed a bit encouraging from the beginning.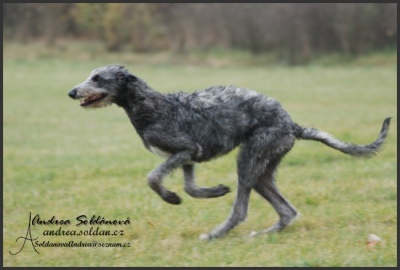 Asi
Photo:
Andrea Soldánová
For his sister, Matylda, this was her first experience with the coursing, but she ran like her life was on the stack.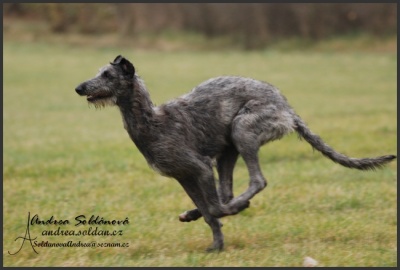 Matylda
Photo:
Andrea Soldánová
The plastic thing interested her very much and she considered catching and investigating it to be very important.
Draggi ran her first ran with Cesmina and then we watched the rest of the runs, this time mixed, mostly – mean bitches and dogs together.
Draggi white, Cesmína red
All the deerhounds ran with great enthusiasm, some with supervision from their owners like Iva's Basta and in case a dog cannot run, her owner took his place. Heroic achievment achieve Monika Bousova and Jany – well, Monika, Jany just hopped around happily, with no interest in the plastic bait.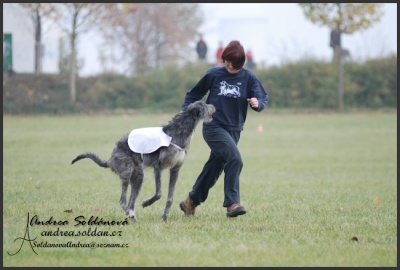 Monika and Jany
Photo:
Andrea Soldánová
After the first round, we gone, as usual, on walk to near river. Everyone enjoyed the nice autumn day.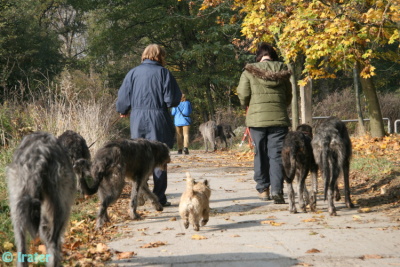 Fistly, we were going by a field and Asi decided to pull Gina out of by her tail.
The decision proved to be wrong.
Asi played with her sister Matylda, who invited her boxer friend Luna.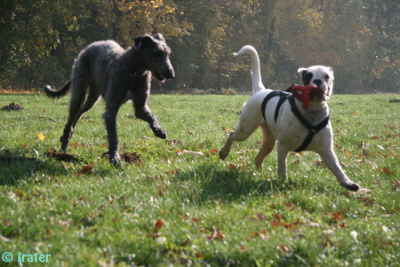 Luna was confused, because up to this time, she thought, that Matylda was the only deerhound in the whole universe. And now, there were many of them. So, when she was fed up with them, she took her toy, letting the two playing together and went to play with her toy…..
Some took bath…
While others hunted rodents….
Gina
Baltazar courted her sister Bibi…
Owners spoke about everything, we picked mushrooms and everybody felt happy.
A historical fencing performance took place just before the second run. We found out that iron pan is sometimes better weapon than a sword.
After this, there was the second run and everyone finished it. As in the earlier one, sometimes an owner ran instead of his/her dog. Draggi ran with two bitches and enjoy it very much. He caught the bait and carried it away proudly.
Draggi red, Blueberry white, Cesmína without jacket
And after this, we went for another walk and tried to took photos of our "B" litter…
Baltazar, Basťa, Bijou, Bibi
And, of course, a mass photo of all the participators.
Cesmína, Bibi, Angie, Adina, Jany, Matylda, Basťa, Bijou, Gina, Draggi, Asi, Canterville, Avery, Baltazar, Century, Quentin
Results were known earlier and we started driving home in the light.