09.12.2008
International show in Prague on 15th November
---
We were looking forward to the international show in Prague, and that was the mistake we've done. Their first performance made litter "A" Irsias and in the number of three – Armin, Azaria and Assing called Maybedog. We signed in our Randis, Monika Boušova Bastian's daughter Adelaida. Dagmar Tylšova had arrived with the puppies' mother Anette. During the judging of Irish wolfhounds, it became clear, that we hadn't chosen the best ribng service for the judge Rudi Brandt from Denmark. The young girls were slightly arrogant, well, we should miss that. But the false information about the age of the dogs, is something hard to go unnoticed. Most of misunderstandings between the judge and the translator were of that the translator didn't know the special cynological terms, so the judge had to repeat it up to three times, after which she said: "write too angled hindquaters.." But the judge was speaking about longer loin, and so on. The judge was unhappy first and then really disappointed. You know, it was an International show.
Maybedog got his first CAJC, his brother very good 2, but we were not happy when the leader of the ring, told us: "You there, with the CAJC, go away and you, come here to get the papers, because you are only very good"
Asi - Maybedog
Armin
Azaria was liked very much and she got CAJC.
Azaria
Randis, after her great success on the Club Show Hluboká got "Good," which leads to expanding her mark collection with something unbelievable. Why? We do not know. In the paper, she was "excellent and nice." But Maybedog's mother Anette got CAC, CACIB and BOB. Dagmar was very proud of her. And we too.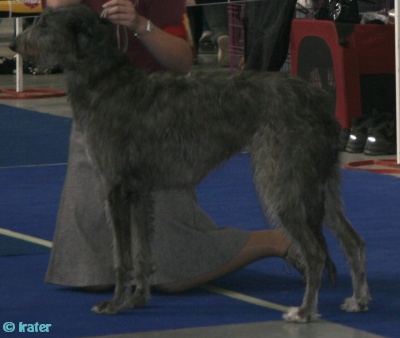 Randis
Anette Grey
On the day of the show, there was a bonitation of Draggi's offspring Diana and D'Artagnan Paluduz. Both are found to be accesible for breeding by the judge Vera Sosnova.
Draggi´s
son D´Artagnan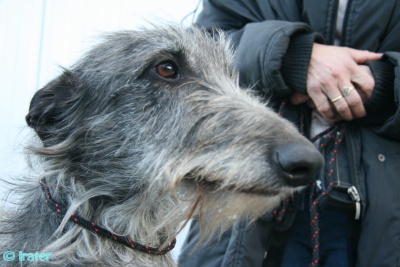 Draggi´s
daughter Diana
"Well, I am not sure, why a deerhound win BOB once and Good the other time?" was Adelaida's reaction during our walk in the meadows behind the exhibition gounds, when we explaned her what had happened. Well, we were unable to explain it properly for her, because we don't know what had happened too. Nonetheless, as Mr. Werich sang: "Once we are up, once we are down,…" after all, shows with Randis are more thrilling and interesting.
Adelaida (daughter of
Bastian
)
"Let it be!" smiled Randis "Let's go chasing someone!" And Adelaida got it.
Randis
"Well, I don't want it!" she shouted. In the end, there was some deerhound chasing.
We left Prague with mixed feelings, but, as we later read on cairn's website, we were't alone… it must have been caused by the sun.