22.12.2008
International show in Wels on 6th and 7th December
---
Friday 5.12.
On Friday afternoon, I had departed on a show in Wels with Molly and Randis. We had had an accomodation in a small hotel near Wels. It was raining and snowing, so we had arrived about 22 pm. on place. The owners had willingly shown us our rooms.
Randis and Molly surveyed the situation and seized the bed and a coach. Deerhound ladies would never sleep on the ground…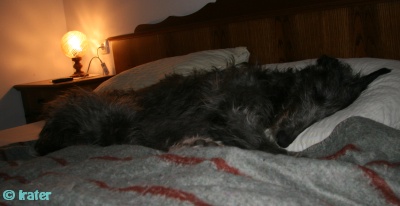 Randis
Molly
Saturday 6.12.
On Saturday morning, we had gone on the show and the girls were aware of that. Today, we were judged by Mr. Gunther Ehrenreich from Austria.
Randis entered on the open class and they liked her very much. She got Excellent 1, CACA. Molly in the champion had defeated a German bitch, so she got Excellent 2, res. CACA. Finally, Randis got a reserve CACIB too, but after an Interchampion.
There was Olga with Dermot too. Dermot was the most successful of our expedition, as he got Excellent 1, CACA, CACIB and he fulfilled the requirements for the title of The Champion of Austria too. I and my girls got a prize too, and this time a cake which was baked by Olga for she lost a bet. So we were able to celebrate Randis success.
Randis and Molly exchanged their sleeping places back in our room…
Randis
Molly
Sunday 7.12.
After a breakfast, we had gone on the show like the previous day. The judge had to be Suzanne Kuratko from Austria, but after all, it was Peter Mazura from Austria. We had an opportunity to see a diferent deerhound type, this one's mother was from canadian kennel Fernhill and father from Scotland kennel Leoch. There were three siblings from this litter, which counted up to 12 puppies. All were the same, looked like their mother in hair – rough, short and fitting tightly. And there were much more differences, not just the hair, but, as we use to say, everyone likes something other. This is what makes shows so interesting…
Atzberg Larimar V1, CACA, CACIB
(www.deerhound.at)
Randis entered in the open class after three adults (two dogs, one bitch) from Alzberg litter, shown in Interclass, and the judge had wondered why she is so hairy deerhound (and she was loosing her hair at that time) , so I had explained him, that those already shown, were having Fernhill-like hair – and Randis got very good 1.
Randis
Molly in the Champion class, was in her full hair, so typical, that the judge was about to sart defending his decision in the case of Randis. She got Excellent 1, CACA, r.CACIB.
Molly
We must have waited until the end of the juding, then we received our results. We tried to shorten our waiting by walking around the halls. Molly met czech podengo…
Molly
Randis had played with a twig…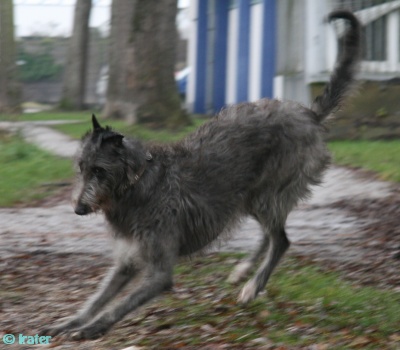 Randis
As soon as we had our results, we headed for home.