14.02.2009
DUO CACIB BRNO 7. - 8. 2.
---
On Saturday, the 7th February, we set off on a show in Brno. We picked our friend Lucka up on the way and our Grandma's cairn terrier Dan – Doughnut too. After these pickings, we headed right for the showing grounds.
The first were our cairns. Dan was on his first show, and whereas Gina was quite uncertain, he looked like shows are his cup of tea. He was interested in everything. Even the trimming, he had accepted it patiently, but after that he appeared pleased with his new appearance. He was handled by his breeder in the show ring. Dan had played his part excellently and he left the audience staring in confusion. Long-term breeders from Germany were coming to us, saying "Congratulations on such a nice dog!" and we kept repeating: "It's our Grandma's dog!" In the Young class, Dan kept on trying to attract attention on him, in which he was successful…
He had won the Young class with
Excellent 1, CAJC
, but it was just a beginning of his success. He'd won
The best Young – Junior BOB
, so he had beaten all young bitches and Mrs. Mgr. Ovesna had taken her time and after that, she put him on the second place in the BOB competition.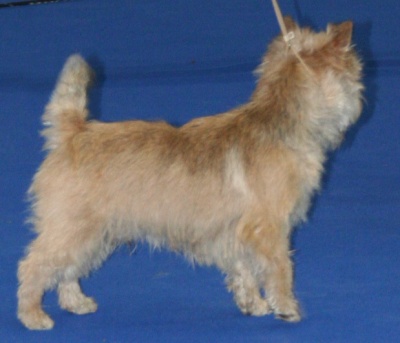 Dan - Donut Kajša Ondra
Deerhounds were judged by Mr. Espen Engh from Norway (greyhound´s kennel Jet´s). He had been liked by all the dogs there for his sensitive approach. He talked to every dog before he started judging him. The rumour, we've heard about him was true. Deerhounds were started by the Young class, where Asi met his brother Armin.
Asi had won the class with Very Good 1 award
, excellent critics with pointed out drawbacks and in conclusion, with a statement that he had a long way before him, but his has a huge potential. The judge wished to see him later, when he will be three years old.
Asi - Assing Irater Irsias
Then, young bitches were on. There, Asi's sister Azalka won Very Good 3 and Bastian's daughter got very good 3.
Randis showed herself in the Open class with Asi's mother Anetka. The judge was excited of Anetka's performance, but Randis got a nice critics, in which he highligthed the balance, elegance, light movement, nice head and he mentioned, that the bitch is quite nice, but she should make use of a "more of everything", that means to be more substance and to be bigger and we should agree on that.
She got Very good 2
,
Anetka had won with Excellent 1, CAC
and, from now on, she could be given the title of
Czech Champion
.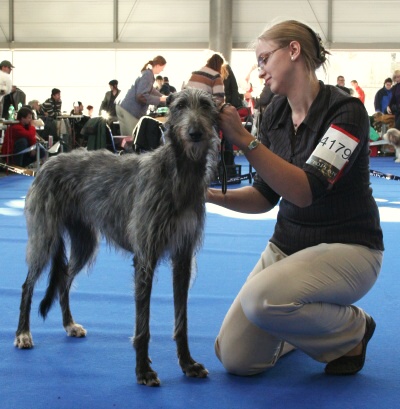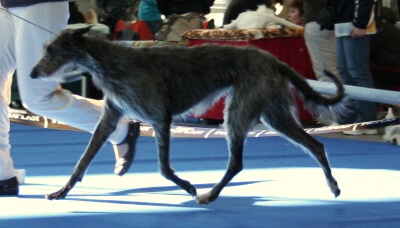 Randis - Grayrory´s Drama
There were two bitches in the Champion class.
Molly won the class with Excellent 1, CAC
.
Molly - Queen Qumolly Qwinta of Dirty Mind
Anetka and Molly take part in CACIB award. Anetka won and
Molly got res. CACIB
.
Molly fulfilled the requirements for the title of
Czech Grand champion
Molly
In the afternooon competitions, the was a big suprise waiting for us. We were chatting and waiting for the X. Group. Small Dan spent the time playing with a PET bottle, satisfied with his adventure. But our Grandmother kept on calling us, telling that she is more than worried about Dan.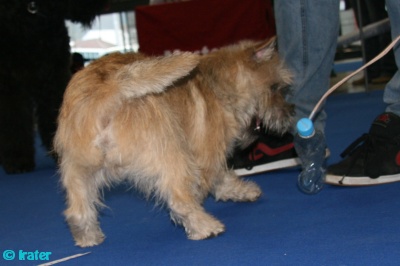 Dan (Donut Kajša Ondra)
I handled Anetka with pleasure and Mr. Dr. S. Tripoli from Italia had chosen Anetka firstly, but then, he had decided… Anetka got….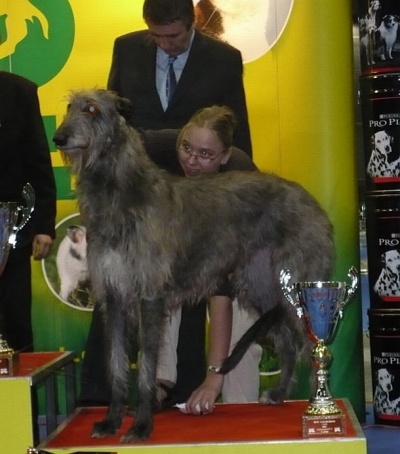 Anette Grey Fi It (Bran's daughter and Asi's mother)
BEST IN GROUP 3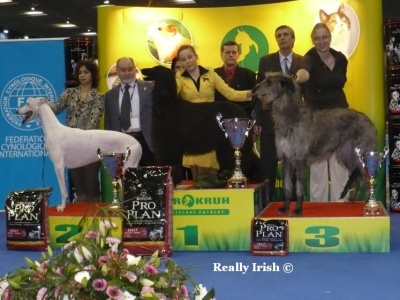 As soon as we left the ring and Anetka saw her owners, tears running on their faces, she beamed like a star and began smiling on them!!! It was a nice experience to see them like that.
For us, was waiting not very easy, the handling of Dan back to our Grandma. She looked like some god of revenge and she told us: "I will NEVER lent you my dog again! You tired him to death!" Death-tired Dan flew into a room, met Grandpa and ten-year old Chico, began playing with his new toy and Chico. The were running round the house. Grandma stared at them and we made a comment: "Well, looking death-tired, we suppose so…!" "But Chico was sad," Grandma opossed, disarmed. To her partial relief, she mentioned in the morning phone call that… "Well, he kept playing for about an hour, had eaten his share and he slept a for a half of an hour longer than he was used to. So much he had been tired…" We hope, that she will lend him to us again. Dan is really beautiful dog with excellent character and he enjoys the shows like no other dog we've known. It will be a great shme not to breed on him….
---
There was less deerhounds because Dasa Tylsova and Monika Bousova did not enter. Daniela hadn't come too, because she got a flu. Dušan Paunovič was the judge. Asi was alone in the Young class, he got CAJC and he fulfilled the requirements for the title as the first of Dasa's litter.
Czech Junior champion
Asi - Assing Irater Irsias