14.05.2009
International dog show in České Budějovice
---
On the show in Česke Budějovice, we'd gone there with Molly and Randis. Mr Jürgen Rösner from Germany was the judge, kennel "von der Oelmühle",where Enfant Terrible von der Oelmühle was born, the mother of our kennel. We were very interested in what he will say about her grandchildren.
There were ten deerhound showed, three of them were offsprings of Bastian Jeeves Irater and two offsprings from our Draggi. So, one big family. For some young deerhounds, this was their first show and those were Bastian's sons Ashar and Aragon.
Draggi's son Dermot
in champion class(he is the champion of Austria) got
excelent one, CAC, CACIB
and so he had met requirements forthe title of
Czech champion
.
Dermot Paluduz - Draggi´s son
In the open class was Randis and Bous's Jany and Draggi's daughter Denisa.
We were suprised, that Mr. Rösner awarded
Randis with excellent 1, CAC, reserve CACIB
.
And so she met the requirements for the title of
Czech champion
Grayrory´s Drama - Randis
Molly (Terinka's granddaughter), in champion class, got
excellent one, CAC, CACIB, BOB
, the highest awards she can get there.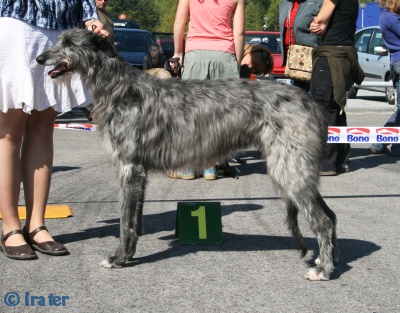 Queen Qumolly Qwinta of Dirty Mind - Molly