31.05.2009
Coursing in Kralupy nad Vltavou 8.5.
---
Molly, Draggi, Asi a Gina and Bella drove with us on this coursing. The sun was shinning, the weather was good and so we paid for two trining runs for Asi and we were curious about his opinion.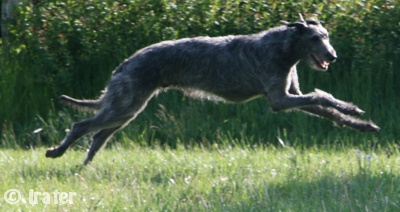 Asi in finish.
After Asi, Gina runs the short track and she'd enjoyed it so much and in the end...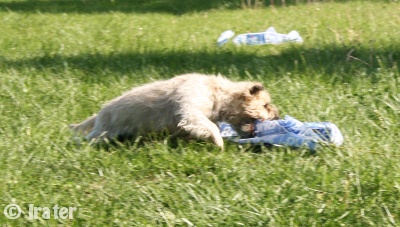 ...she killed the bait!
Draggi and Derísek ran first. Draggi showed his cunning tactics of old veteran, taking advantage of Derisek's work and outrunning him in the finish.
Dermot (red), Draggi (white)
Draggi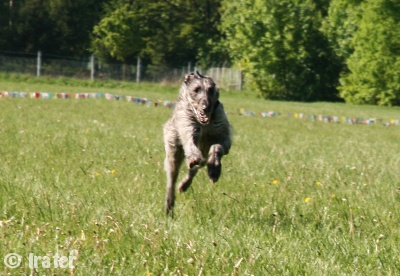 Derísek ran as much as he can...
Molly ran with white blanket, whereas Century got the red one and Cantervill blue. Cantervill liked the company and he ran a nice run.
Century, Molly, Canterville
...Molly in the middle ...
Century, Molly, Canterville
Century, Molly, Canterville
Molly
Gina and Tequila ran their glorious run in the break. When they were walking around the track, they looked as if being one family, but Tequila was australian terrier whereas Gina and Bella cairn terrier.

Gina
...in finish.
Let's end with fun and go and prepare the bait for someone else.
Asi ran his second run and behaved like an experienced hunter!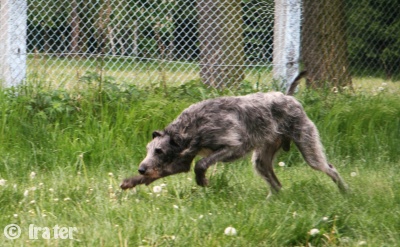 Asi
It was an exceptional day and deerhounds were in TV - we did forget nobody and so all were by the TV camera. The film crew had never seen that many deerhounds on one place, provided they have seen one.
After some showing, we'd gone running again. Molly got red, but she outrun Cantervill so much that he refused to chase her or anything...
Molly ran only after the bait...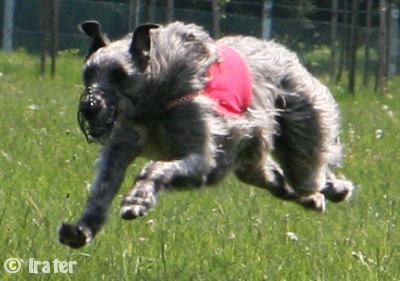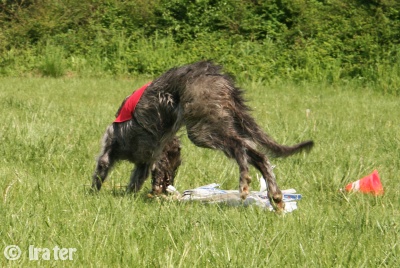 Mikeš's girls ran next and enjoyed the run.
Draggi - blue and Derísek - white and Century - red. The guys ran madly ahead of her, so disgusted Century resigned and returned back to her owner and her grandma Ahra.
Draggi and Dermot
Draggi did not let his son to do the bigger part of the job, they cooperated all the way to the finish.
Draggi...
There was a walk after the runs, the older played with puppies, who found out that the flat wet thing is water in which they must swim...
... good deerhound fun ...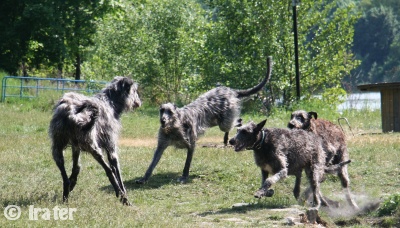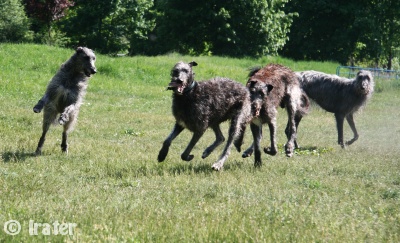 Molly examines her friend decorated with some sticky plant...
Draggi in the river Vltava ...
Molly in the river Vltava...
And the results were...:
Deerhound males:
Draggi 1. place
So we've lost the bet with Olga, so we have to cook a cake for her...
Dermot 2. place
Canterville 3. place
Deerhound females
Molly 1.place, the best deerhound
Blueberry 2. place
Andulka 3. place
Century 4. place
Our deerhound were nominated for European championship in Mariánské lázně 25.-26.7.2009.