03.08.2009
Deerhound Jahreaustellung Hünstetten 06.06.2009

---
We'd gone on an annual trip to Germany on their Deerhound show. This time Marry McBryde (GB) was the judge (kennel Marumac)
Asi and Molly took part in the trip as we asked Jana and Robo for lending us their caravan. We drove to Dobrany, where we loaded the rest of our companions - Iva, Jiri, Monika and Adinka (daughter of Bastian).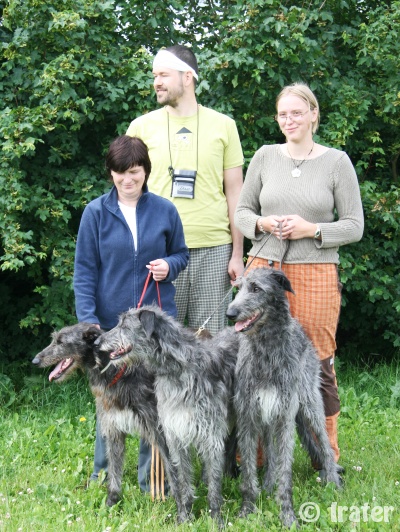 Adinka, Molly, Asi
Monika was the only one who was waiting, the others were delayed. Despite that, we arrived in time on the place of the show.
We'd been speaking all the way to the show and we were able to find it too. We parked on caravan place and looked forward to the next day.
It was raining in te morning - not a thing we wanted, but we went on th show despite the weather - as much as 104 deerhounds entered.
The judge got wellingtons and raincoat and she was judging even in this terrible weather.

All the deerhounds wre in the protection of their owner's tents.

Alhough th weather was bad, there was nobody in bad mood.

First went veterans - dogs and bitches.


Asi
was the first in the young class and he'd done well for a czech dog and got second place, awarded
Excellent 2, res. JVDH, res. JCAC
The judge was excited by Asi's movement (she said, quoting: WOW!) and demanded that he had to took part in The best movement competition, which was not on the list of the day. There were only the best head competition.
Menawhile we were watching, Jiri came and said: "Do you know what I've just done?" and he looked like some Japanese wreslter for the rest of the way back home.
Then Adelaida from Podlipnice entered the show and amongst the 12 bitches in Young class, she got Excelent 2 res JVDH, res JCAC.
It that class, Draggi's daughter Destiny Margodeer got Excellent.
So we were waiting only for our Molly to show and we talked with friends not taking too much photos as we usually do on shows.
Our
Molly
was in the Champion class with 16 other bitches.
The judging took too ong and while waiting for the result, Molly saw something coursing-like and she insisted on it to be checked.
The judge said "lovely" when Molly finished her part and we were happy for it..
Molly got excellent.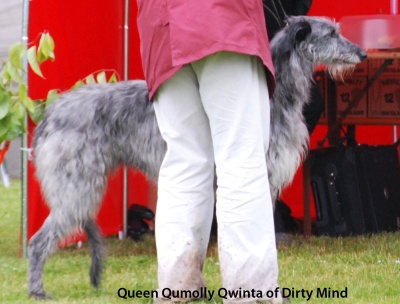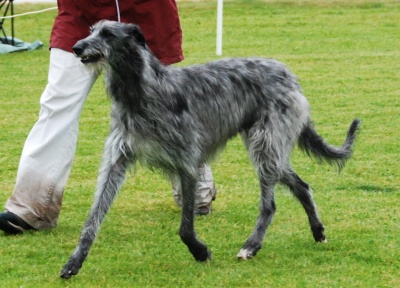 Flower Power von der Oelmühle was the best bitch.
We were interested in who'd get BOB award - Diva of Bestmara from France got it this year.
Then, the best head in the young class was on. I've heard Adelaida's number, but Monika was in the car again and I had only phone number on Iva, so I caled and Jiri, who answered it, relayed the message and Monika got in the ring on time. She got best pupy and best junior head. And because the previous winner of this award forgot to bring it, she'll get it by mail. And she must bring it on the next Deerhound Jahreaustellung for another winner.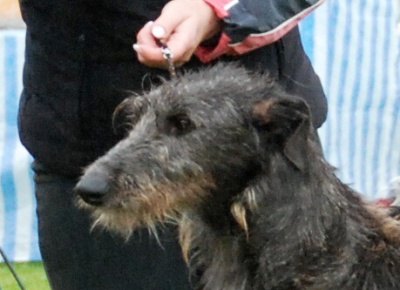 Then it really ended and we ere chatting and waiting for the critics. We asked the judge to write the result to our pedigrees and sign it.
Then we head for home. We slept in Germany and in the next morning, we arrivd in Dobrany.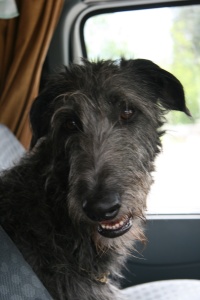 And it's not a proper trip with no deerhound fun. While the weather in Germany wasn't good, we made up for it in Czech Republic and we've gone on a wak with Bastik, Bizka, Cudla and Arinka.
We are looking forward to the next year.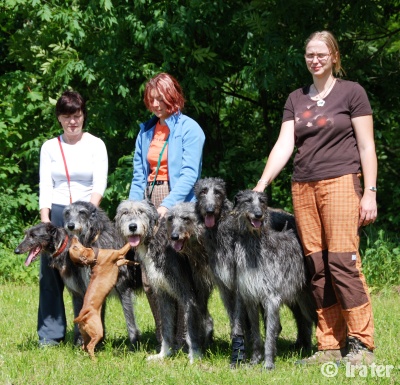 Adinka, Bižka, Čudla, Arinka, Bastík, Asi, Molly
Photos by: Ivana and Jiří Kohoutovi, Hana Voborníková