31.12.2009
Christmas gift for deerhound???
---
Every year the person thinks about some new toy, snack, but it is not with fantasy.
This year we decided to prepare another surprise – we entered them to "christmas" coursing in Brno. First problem was in the morning, when here were – 17 degrees outside. Have to go or not. Finally we called to our grandmother to Brno, there were "only" - 10 degrees in Brno, so we took a lot of blankets and our dogs dressed too and drove to Brno.
In despite of frost weather all of entry people came and even three Perro sin Pela. They have only their sweaters! Our meeting admonish of about dog´s fashion show. Almost every dog had some nice of blanket, sweater or the others wear.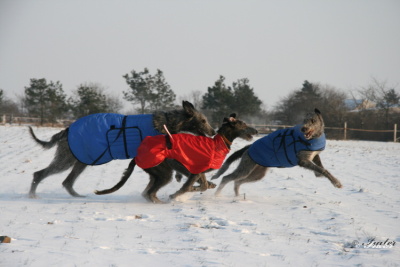 The owners had a lot of wears (jackets, sweaters, caps, gloxe, ...) and sometimes they were able to go to buffet for some hot drink. The dogs were very happy outside and played. Whole day was sunshine but with frost wind.
There were Asi´s sister Matylda with her owners and Naďa with Lumír Trenčanský with their irish wolfhound puppy Lia and Asi´s and Matylda´s aunt - Andy, cross breed Bára with Lucka and sheltie Aimee with Jana and Honza.
Lia, Andy, Bára, Randis, Carrie - Clotilda, Asi, Molly, Matylda, Gina and Bella
We bought to our deerhounds and terriers one coursing run. The organizers were very good and there were a friendly atmosphere.
Very good idea was with christmas gifts, every participant bestowed as many gifts as he had dogs at start. All gifts were given to the big sack and everybody took so many gifts as he had dogs at start. So we got five gifts like plush pig and other nice toys and dainties.
All running – Molly with slughi, who strated very fast, but our Molly doesn´t like to be second, so in few seconds slughi saw only deerhound´s tail.
Molly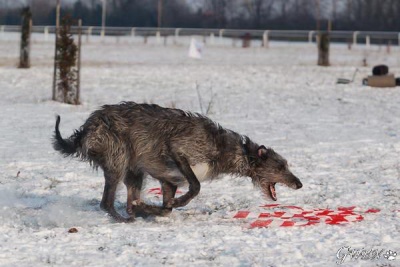 Molly
Author of photo:
Gwen
Asi ran with Matylda...
Matylda, Asi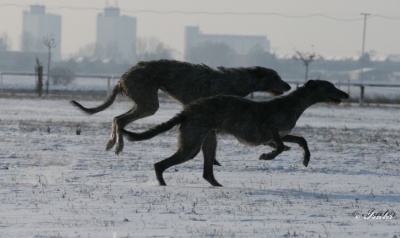 Asi
Matylda
Asi
Carrie tried her first short run – in our pleasure she ran very nice ...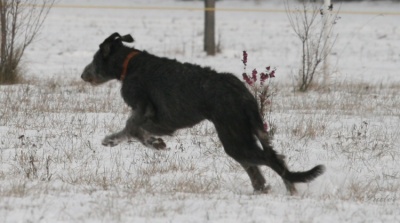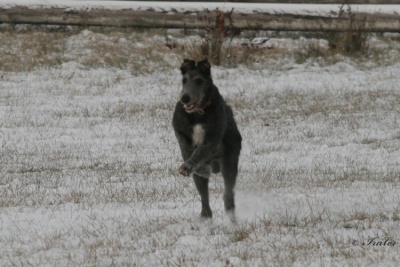 Carrie
... and in her second run she cought the lure, because she enjoys this entertainment.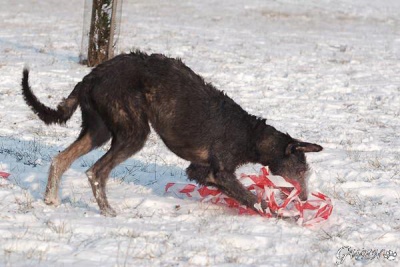 Carrie - Clotilda
Author of photo:
Gwen
Terriers ran together, mother Gina with happy barking at start and sooner she showed her back to her daugheter.
Bella, Gina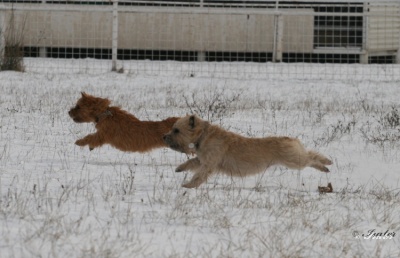 Bella
Gina
Bella a Gina
Author of photo:
Gwen
After our races we wet for a walk all together to the fiels, the dogs played and then we drived home.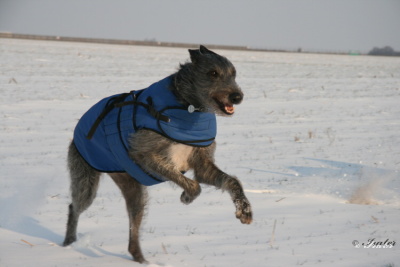 Randis
Bára gave us a big box with something for our dogs for Christmas. The box was so nice wrapped, so our dogs got it on Christmas day. When we unwrapped the gift on 24.12. in the evening, everybody of our dogs had a small gift there, even our dachshunds Fido and Andy!! Kesi and Baltazar got a small snack and the others got the plush toy! How they like it, you can see! The next day they took them to their walk like small children.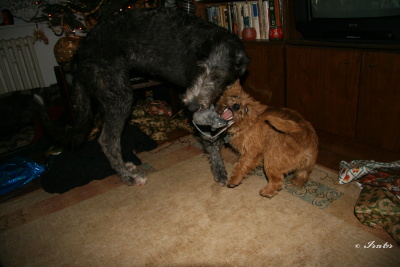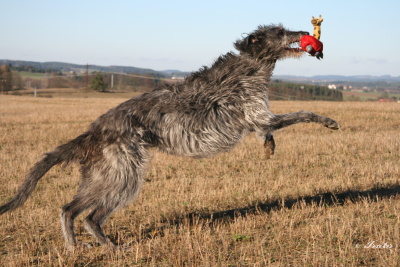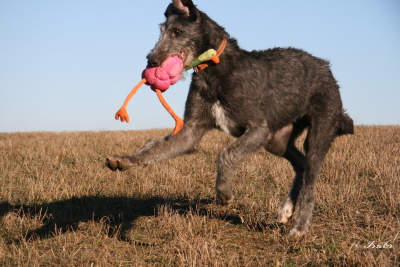 Photos of taining in Brno on 20.12.2009