16.01.2010
Národní výstava Olomouc
10.01.2010
---
This weekend was the snowing calamity in our republic, but finally we decided to go to the dog show in Olomouc. The roads were OK and we came to Olomouc with no problems.
The judge was Mr. Ing. Štefan Štefík from Slovakia. Asi was presented in winner class. For the entry to winner class was qualified him the titles Winner of Sighthound Specialty and Club winner of Slovak Sighthound Club. Asi became the best of breed from three adult deerhounds and won
excellent 1, CAC, National winner, BOB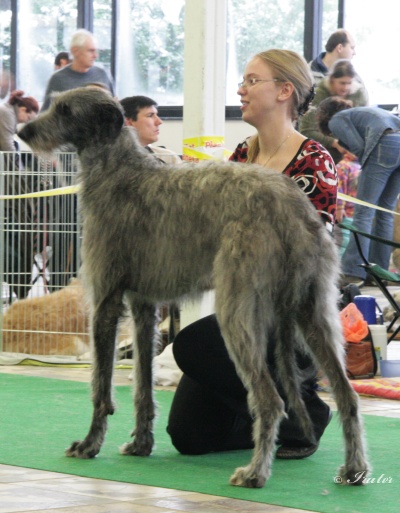 Assing Irater Irsias
Whole the day was snowing and finally we made decision and stayed for the finaly competitions. We were very happy because our Asi was on fifth place in the best in group.
Assing Irater Irsias
Assing Irater Irsias - 5. BIG
In the evening we were safely home.
Asi finished the conditions for the title and because there were employes of our CMKU (our main cynology organisation), we got the diploma of his
CZECH CHAMPION
Assing Irater Irsias