06.11.2007
On Saturday (27.10.) we went to Kralupy nad Vltavou for the lure coursing.
It was nice autumn´s day...
There were many of our friends...
Some of us was thinking about the best run strategy...
Then was the start...
All deerhounds ran...
After the first run we were going for the walk...
We were playing...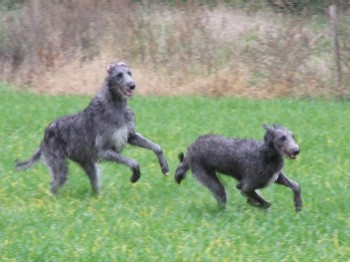 Some deerhounds had a bath in the river...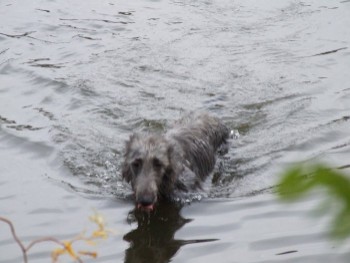 On the start prepared also puppies - our Randis and Jany from the Bouš family...
Jany
Randis
Gina wanted to go too and then she ran with barking ...
In a few minutes she stopped barking, but she came in finish and she made good her first licence´s run.
After the last run of competition, on the start we went with all deerhounds, with the puppies too...
It was very nice to see nine deerhounds in collective run...
And the finish of this run? Our Draggi was first and stollen the tuft and he was proud of it...
And the results of the coursing?Draggi was the first deerhound male and Molly was the second from the four deerhound females. Molly made good her two licence´s runs.
And after the happy day we went home.
Photos by Ing. Ivana Říhová