18.01.2008
On Sunday 13.1. we went to the National dog show to Olomouc with Molly to intermediate class and Randis to young class.
Molly and Randis were very happy there, but in the early morning ...
There were only three deerhounds females - Randis, Molly and our Draggi´s daughter Diana. And the results? Randis got her second title CAJC and Molly was r. CAC, the winner was Diana.
Molly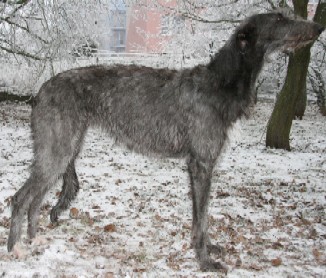 Randis
After judging we bought some cookies ... We were talking with our friends and after the nice day we went home.