15.02.2008
On Saturday 9.2. we went to International dog show to Brno. Randis was entered for the last time in young class and Molly was entered in intermediale class. The judge was Mr. Tibor Havelka from Slovak Republic.
Randis and Molly
Brno is not so far from our town, so we did not wake up early. After our arrive to the show Randis and Molly were happy.
At first was in the ring Randis and Jany from Bous family. Randis was winner of the young class and she was excellent 1, CAJC. So she finished the title
Czech Junior champion.
Randis
In intermediale class were entered Molly and Draggi´s daughter Diana. Molly won the first place with excellent 1, CAC. For the CACIB competed our Molly with our Bran´s daughter Anne Regina. Molly was reserve CACIB.
Molly and Diana
For the BOB competed adult male, adult female and our Randis as young female. The judge´s first choice were our Randis and Anne Regina. Finally the BOB won adult female Anne Regina.
We were very happy - two Gina´s puppies Albert (Fido) and Aja came to the show. Gina was very happy too. Fido´s owner had to go early back home, so we haven´t a new photo of him. Aja´s owners stayed longer and they got some primary knowledges about cairn´s trimming. We haven´t had a good knowledges about it yet, so we have learned many new things, but our Gina hasn´t liked the trimming. Aja is a beautiful female according to the specialists.
Ája Gina Irater
Aja is very friendly, the most she has liked the cairns from Susice ...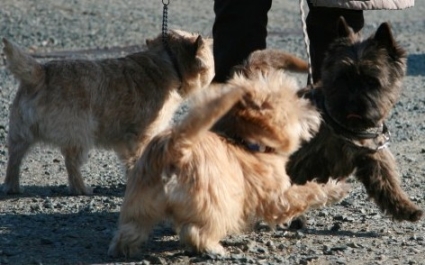 At the end we made a photo of Aja with her mother Gina. Aja has the same colour like her father but her expresion is really like her mother ...
Ája and Gina