13.03.2008
On Saturday 8.3. in the morning at about half past three we went to Austria to the international dog show to Graz with Molly, Draggi and Randis.
In the hall we have found the place for us ...
Randis, Molly and Draggi
The judge was Tino Pehar from Croatia.
At first was Draggi in champion class. The judge controlled him and described to the future judge how the deerhound looks like. The judging took place in movement what is better for Draggi than staying in show stand. Draggi was excellent 1, CACA, CACIB. He finished the conditions for title
Interchampion.
Draggi
Randis was in intermediate class and she was very good 1. The judge said that she is smaller size. So Randis jumped and played in the movement, maybe therefore she wanted to be bigger ...
Randis after judging ...
In open class was our Molly and she was excellent 1, CACA. For CACIB she competited with adult female from champion class. But the judge didn´t hesitate and the title CACIB gave to Molly.
In competition for BOB were Draggi and Molly. For the judge was the most important the movement. So we were running and running, maybe twentytimes around the ring. Finally our Molly was BOB.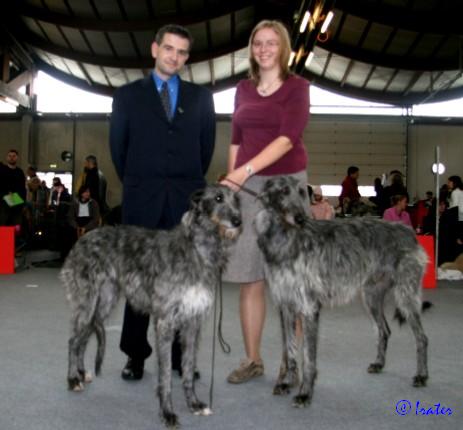 Molly BOB and Draggi BOS
Molly in BIG competition
Our success we had to celebrate how our dogs have liked. Draggi chose some delicacy for him ...
Smack ...
Molly has a new bed ...
And Randis has a new plush toy - monkey ...
| | |
| --- | --- |
| HURRAH!!!!!!!!!!!! | This is only my... |
Sometimes Randis lend her toy to Molly...
Then we went home.