03.12.2008
National coursing in Austria
---
We went to Austria in full numbers – Molly ended her heat and Randis recovered from her injury.
We prepared well for the journey – from Olga's gulasch to some pies.
The track was built on a small meadow, used as an airstrip, about 20 km from Bratislava. We parked our cars by the airstrip and we had to make sure, usualy by reversing our car, that our dogs didn't see the track before and between their runs.
We started as usual. Draggi's son Dermot ran alone and then ran Molly with Randis…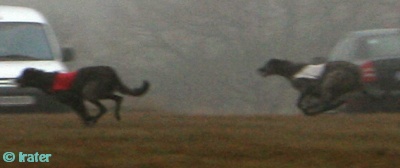 Molly
---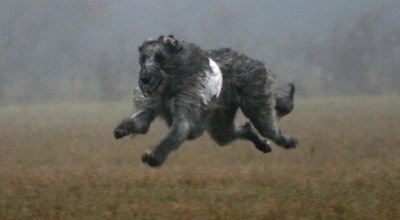 http://www.flickr.com/photos/saluki_at

Randis
---
Both bitches ran excellent! Randis even bit the bait in the end! We were very proud of them!
After them, Draggi and Wade von Schloss Neuschwanstein ran. Wade chose to wait on strategic place in the middle of the track, while Draggi hunted it down…

Draggi
---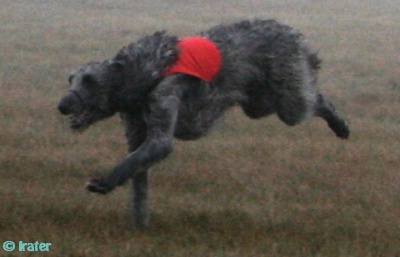 Draggi finished the race and caught the bait at the finish. Then a short walk followed, so the dogs should relax after the run and go to the car and lay there.
In second run, Draggi and Randis ran together and the track was built in a way, when one ran after the bait and the second waited and took a shortcut so they could catch it easily, they went to a ground for parachutists, covered with PVC. This ground was very slippery and so very dangerous for the dogs. Draggi and Randis fell over in their sprint and stopped. They moved again, when Draggi spotted the bait and sprinted to it, followed by Randis. Unfortunately, Randis hopped away from the bait in the end. The judge told us that the rope injured her paw and she is bleeding. We were shocked. Fortunately again, it was just a scratch, so we did not need to seek out a vet. Poor Randis was today too excited of the running!

Randis
---

Draggi
---
Dermot, who ran with Molly, fell over very nasty, nastier than our dogs before, but Molly turned herself in the jump and ran outside the PVC ground. Dermot followed her, but he caught up with her at the finish.

Molly
---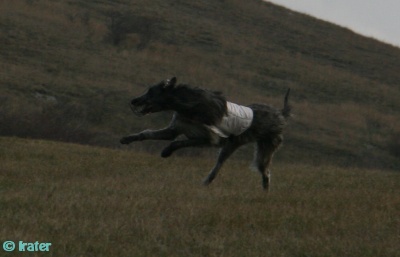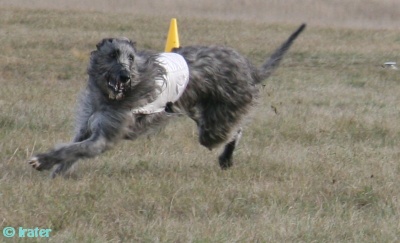 We went to local pub for the result announcement.
Molly was second, Draggi third and Randis fourth. Dermot, Draggi's son was the first
.
Our greatest success was that Randis ran again happily and she enjoyed it as well! Hope, that the cut and burned paw by the string in the second race would never return any "doubts" to her mind. I think, that we are running just for fun, because our… Molly, Draggi and Randis don't care about some metal nonsense, they just happily awaits the game with that plastic nonsense and we, in return, applause at their cunning, agility and speed. From the trophy is, like that one from a show, something, we, the owners, are proud and therefore we are proud of our dogs.
But happiest we are, when they finish the race unhurt – that is the greagtest prize ever.