Carrie Randis Irater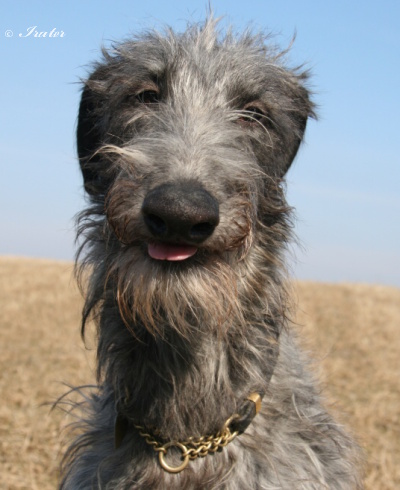 Carrie was born as a first girl of our Randis. She came with the words
"She is beautiful!"
. We were thinking about her sister Cobby, but she knew that she is ours from the first moment...
Carrie (nickname Clotilda how she called by our friend Bara) loves walks, learns from her mother, aunts, uncles all things. She has to be everywhere and tries everything ...
How she will grow? She will surprise us ...
Date of birth: 26.06.2009
Show, titles:Czech junior champion, Czech champion
very promising, excellent, CAJC, qualification Crufts 2011, Best junior, BOS at Club show CDC 2010,CAC, CACIB, 2.BIG, CAC SK, CACIB, res. CAC IT, Junior EUROSIGHTHOUND WINNER 2010, Club winner CDC 2011, BOS at Club show CDC 2011
Coursing licence
CACIL, C.A.C.L. IT,
res.CACNL 7.place European Championship 2011
Registration number: ČMKU/D/206/09
Color: grey
Litter: 7 - Litter "C" Irater
Carrie from first day to 11 weeks
Offsprings: 8
Litter "D" Irater
Date of birth: 10.09.2011
Father:
Assing Irater Irsias